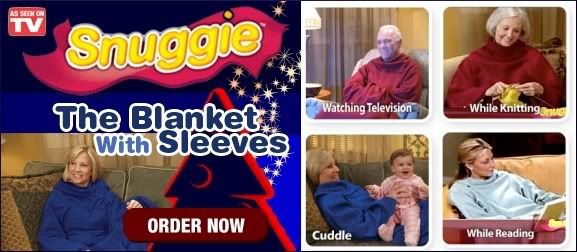 The last time I was this fascinated with a product that was sold As Seen on TV, was the Magic Bullet. Sister got one, Grace got one and I wanted one. Brian said okay, but why. I thought about it for a minute and said, "To make milkshakes!" He said, "Go buy some ice cream; I'll make you the best milkshake you've ever had without a stupid Magic Bullet," and then laughed condescendingly. Which really pissed me off and made me not want to like the milkshake he made. But I couldn't deny its perfection. It was lovely - Breyer's Chocolate & Strawberry, thick, eaten with a spoon. And I forgot about the Magic Bullet.
This? I don't think I can forget about as easily and I doubt Brian can whip up a homemade version of it. Unless he has some hidden mad sewing skills I'm not aware of. Possible, but not likely.
I'm obsessed. I've seen the commercial for a few weeks now and every time I'm like, "Oh my God, it's THE SNUGGIE! I NEED ONE! RIGHT NOW!!!" He just shakes his head. He's really mean sometimes. Then to make things worse, one of my heroes and Myspace "friends", Diablo Cody, author of Candy Girl and writer of Juno and the soon-to-be released Jennifer's Body and Showtime series United States of Tara (which reminds me, note to self: add Showtime to cable package) blogs that she not only HAS the Snuggie, she can't picture how she ever managed to live BEFORE the Snuggie. She provided photographic evidence:
More proof of why it sucks for me not to be her. I mean okay, I want to be Tina Fey too, but does SHE own a Snuggie? I doubt it.
To top it all off, yesterday I got an email. From Snuggie! Which is obviously the final sign I needed. Brian thinks it's some evil internet marketing tool that guessed how much I want one, but how could that be? This is the first time I've ever spoken of it to anyone but him. There is nothing sinister about this. It's a blanket. With sleeves. If that isn't the perfect, best, most awesome thing ever in the whole wide world, I don't know what is. I've already pictured myself in front of the fireplace and reading while wrapped in a Snuggie of my very own. I don't think I have a choice at this point.
In these trying economic times, you're supposed to take comfort in the little things.
You're also supposed to not spend money on stupid shit you don't need. But I'm ignoring that part.