Yiddish words are so much fun.
Well the day is finally here - tonight is the church Passover dinner, which is sure to bring the laughs. I guess it's sort of a big deal to me as well, as I feel we've come a long way from when I felt like the black sheepess of the family, with their oldest son living in sin with a Jew and all. From when the first time I ever visited his mom and George's house and noticed a book titled "How to Lead Your Jewish Friends to the Messiah," displayed surreptitiously on their coffee table. Back then there was a lot of tentativeness from them, with conversations like this:
Iris:
I'm sorry if you can't eat this Kim ("Kee-yim,") but I put bacon in the potato salad
Me:
That's okay; I'm not a practicing Jew and I love pork
.
Iris:
Well, I made a ham too; is that okay
?
Me: ...
and
George:
What tribe in Israel does your family descend from
?
Me:
I didn't know they had tribes in Israel, so I have no idea. Leviticus
?
(Brian later confirmed there are indeed tribes that Jews come from and what's sad about that is he has a lot more knowledge of Judiasm than I do, thus he makes me look bad.)
I'm sure there's potential for some awkwardness tonight as well however, as George has little to none in the social filters department. I can picture him introducing me to people repeatedly and gleefully telling them I'm Jewish. In fact I know he will. Sort of different but also similar, a few weeks ago they had their next door neighbor over for Sunday "dinner." (I will never say that without quotation marks). When he introduced us, George told the guy I used to live in upstate New York. This guy is from Michigan. From what I can tell, Michigan is a long way from New York so I wasn't quite sure how to respond and neither was the neighbor. One thing has absolutely nothing to do with the other, except maybe we're both Yankees in George's mind and so there was potential for bonding? Also please note I lived in New York the first five years of my life and then lived and grew up in Florida. I guess he saves that part for when he introduces me to anyone from anywhere in the south. But I'm already prepared for the weirdness tonight, so no problem. I do wish I had this shirt to wear tonight though: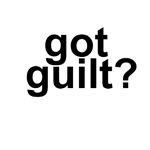 Not that any of the Baptists would get it. Catholics would, because like Jews they are very wise in the ways of the guilt. I always say the only difference is Jews are born with it and Catholics have to go to school to learn it - ZING! I crack myself up.
We'll probably join them at church on Sunday as well to celebrate Easter. I gots to have all my bases covered, yanno? Plus I've always loved Easter. Which side are you on as far as Cadbury vs. Reese eggs? For me it's Reese's all the way. (I'm sure
Heather
will pick Cadbury because she likes being ornery that way with me, hee hee!)What the F is up with that yellow shit in the middle of the Cadbury? I know it's supposed to be yolk, but EWWWW. And if the white stuff is marshmellow, well then I hate marshmellow so there you go. Sister developed a little problem with Peeps a few years back and I'm not sure if she's yet to be able to be in the same room with them again without gagging, but again no marshmellow for me. I will roast them and hand them to you all day long but I refuse to put a black charred sticky sugar blob in my mouth hole ever. They are acceptable in Rice Krispie treats and that is all.
And for now, that IS all.