DEADLIEST CATCH TONIGHT, HOT DAMN
!!! Oh, vast Bering Sea, I've longed for your dark and dangerous waters for six months now and I'm so glad you and the men who have to deal with your cranky ass are back again. So, so glad!
Yesterday when I got home I mentioned to Brian about having the dream about being pregnant and he looked at me all shocked and said
Holy shit, I did too!
. I said
Last night
? Yes. So there's that. It doesn't mean I think I am; I just think this is the first time ever we've dreamt about the same thing on the same night or at least told each other. I picture our heads pressed together with one of those cartoon dream clouds above them. Yeah.
I found fifteen dollars in my wallet this morning. This never happens (to me) and I was so excited I pulled into the gas station and put a bunch of gas in the car. What, you thought I was going to say I bought Lotto tickets? Come on.
Brian discovered this show we've started watching on AMC called Breaking Bad. It's about a guy who's a high school chemistry teacher who's dying of cancer so he and a former student start cooking and selling crystal meth so he can make enough money to help support his family (a pregnant wife and teenage son) when he dies, because God only knows they could not survive on anything a high school teacher might otherwise leave behind. It's a really cool and original show, but last night there was a very disturbing scene with two meth heads and their dirty sad little kid in a disgustingly filthy crack(meth) house. I paused the TV and said,
I need you to come into the kitchen with me
. He said,
You want to finish cleaning up, don't you?
. He knows me so well. I can let laundry accumulate in piles around the house for weeks and have dustballs the size of tumbleweeds, but I CANNOT abide a dirty kitchen. Seeing that nasty house made me want to scour things just for fun.
Currently though I do have a home project in mind. He made the comment the other night as we were settling into bed that we really needed to do something about decorating the bedroom. It's always the last room I think about when it comes to that and really, that's not cool. And for HIM to notice and comment? Unheard of. But I agree - important things happen in there and it should be comfortable and attractive, not neglected and bare. Because a barren room = a barren womb? Hey, you never know. I already have some cool ideas that are fairly thrifty. I keep a little notebook for decorating ideas (NERD!) and I've been referring to that, but I also want more ideas. What do you like about your bedroom? What color is it? Do you believe green and blue are tranquil or nautical? My unofficial colors have been plum, green and gold for quite some time and I'm definitely ready to change that.
This is exactly what our bed looks like (not including the bedclothes, obvs):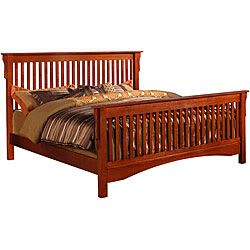 So, I'm not even sure what style that is. I think it's considered "Mission?" I call it "Gives Me Something to Hold Onto for Added Traction During Relations."
It's been thunderstorming again for two days now. I don't mind it and we badly need the rain, but I find it very difficult to stay awake in this type of weather. The dark clouds, low rumbling sounds, pitter patter of rain lightly tapping the...
*Zzzzz*