I'm looking for any and all diversions this week; bear with me. Bear. Ha, that's...nevermind.
We have this weird fascination for Alaska. Neither of us has ever been there, but we're a little obsessed with the idea of it and if there is ever something about it on the telly, odds are we're going to watch it. Which reminds me - if any of you watch
DeadliestCatch
, Season 5 starts next month (Yay!)but as of my last check on the Discovery Channel website (yes, I've been checking daily - what?) they haven't listed a start date yet. A show about crab fishing in the Bering Sea - me? Yes. I love it. I made the mistake of watching a marathon a few years ago and have been hooked (pun totally intended) ever since. I may or may not even have a crush on one or two or all of the fishermen.
Last night Brian told me he'd taped something he thought we might like. It's called
Alone in the Wilderness
, a documentary about a 51-year-old man who went to Alaska in 1968 to see if he could live there by himself for one year and documented his daily life with a camera and a journal. His name is Richard Proenneke and here is the badass himself: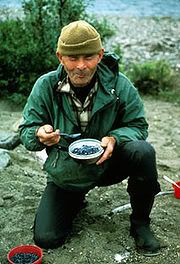 Not only did he live quite well for that year, he liked it so much he ended up living the next THIRTY-FIVE years there. By himself. He made his own tools. He built his own cabin. He grew and caught his own food. The dude was amazing, and if you ever get a chance to check out the movie or his book, (and oh, we will be getting the book, trust me)I highly recommend it.
I guess what we like about people like this is that they kind of put things into perspective a little bit. Here we are, worried about the economy, caught up in whatever little dramas we all have, (some of which we create for ourselves), stressed out over work or family or whatever. People like this who have the balls to say,
You know what? I quit this bitch
. And then actually follow through with it; it's just absolutely amazing to me. I'm jealous of that ability. He narrates the documentary and at one point when he's done HAND BUILDING HIS LOG CABIN, he says,
Falling asleep to the sound of the river rushing by is the best sleeping pill in the world.
I believe you, buddy.
Brian watches things like that with obvious lust in his soul. I could almost hear what he was thinking last night as we watched. I know he'd love to try something like that, even if only for a few months. The closest he's ever had to pure and complete happiness from a job was when he did commercial fishing, NOT in Alaska, down in South Florida, but still. I dealt with being apart for days, sometimes weeks at a time because I knew how much he loved it, for almost a year. I wish there was a way for him to do it again, of course without the separation part. A lot of people said he was being kind of selfish to do it. Maybe. All I know is it's a pleasure to see your spouse that happy all the time. I would've felt selfish had I not agreed to let him do it.
I fervently hope someday we'll take a trip to Alaska. Yes, that sounds a little crazy but it's totally true. I think the closest we'll ever come is the tentative cruise Johnann and I are planning for some year in the future. It might take ten years to save and plan for it, but it can be done. Something crazy too: many years ago (I want to say the fifties), one of my dad's older relatives bought property there. Supposedly. We've never been able to locate any deed or anything to prove that; it was just something people in the family would bring up from time to time. I never used to care, but now? Damn. Could you imagine though if I ever found this evidence? Gah! Who knows, then; all bets would be off. I might just have to say
I quit this bitch; I'm out! Governor, tell your teenage daughter to get ready to party and get a babysitter for the bastard grandchild because here we come
!