We had a crazy working weekend, which makes today kind of suck because I feel like we kind of didn't have a weekend at all, but the extra money right now is awesome and helpful, so I'm not really complaining, just stating a fact. Lucky for us, or should I say Brian, it wasn't too stupid outside so I was able to help him do some landscape work. Had it been today, I would've had to politely decline. As it was, we worked mostly in the late afternoon/evening and I had fun throwing down some new mulch and planting flowers. He knows he can always tempt me with a trip to the Home Depot.
I love many flowers, but right now these are ranking pretty high up there: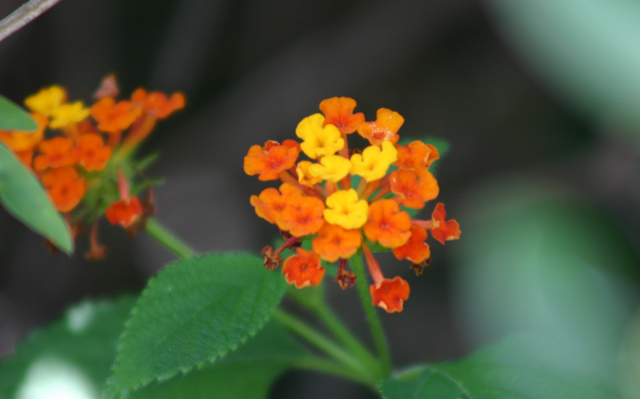 Bonus Green Thumb points if you know what they are! Brian usually does pretty well picking out flowers even though when he was in school they didn't interest him quite as much as trees, plants and bugs. The only one we really disagree on are Snap Dragons. He loves them and would use them every time, but I think they look like aliens and/or female genitalia. Let's not analyze that statement too deeply.
At his parents' yesterday the big story was my sister-in-law, a.k.a. Brian's step-sister's recent engagement announcement. George told us her boyfriend (another Brian, jeez) called him the other night to do the very cool thing of asking George for Kelly's hand in marriage. That's pretty much unheard of these days and we both expressed how cool we thought it was. George agreed and said it was very touching to him. Then all of a sudden Brian's mom busted out with, "I wonder if he called Kelly's step-father and asked him the same thing."
*All converasation ceases and awkward silence ensues*
Brian kind of gave me a side-eye and later told me it really pissed him off. To what purpose? George is already very sensitive to the fact he wishes he and his daughter had a closer relationship(and Iris is very aware of this), so at best it was just a thoughtless remark and she didn't realize how it bad it sounded and at worst it was that passive-aggressive, sweet-toned evil thing southern women have perfected over generations. THEN, she started right in with how they plunked down a ton of money for Kelly's first wedding and how they certainly would NOT be doing that again...and the atmosphere in the room became so tense, I excused myself from the table and pretended to have to go to the bathroom for a short while.
Dude. I felt so bad and embarrassed and...just shitty. I'm particularly sensitive to father/daughter relationships. And I've noticed as Brian's mom gets older she is getting a little sassier and snippier, which okay, but I'd prefer stuff like that not to happen in front of me. Being around them for so many years, my tolerance for the awkward has gotten much higher, but it still totally catches me off guard sometimes.
She later gave me and the dog a ride home so Brian could help George finish yet another project and we talked a little about it. I can see some of her point, coming to it from the step-parent's point of view, but on the other hand, George has been very, VERY generous with regard to her two sons (I say from the experience of being the recipient of his generosity many times), so I'd just rather not discuss any of it, at all.
I will say I was under the impression that for a second marriage, I thought most people played it pretty low-key. She's already done the big expensive wedding with the three-hundred guests and poufy white dress and that one didn't take. She loves to travel; I would've thought this time around maybe she'd want just to go off somewhere together and combine the wedding and honeymoon. That's certainly what the hell I'd do. Right? I mean, I know of people who have actually done this and I just assumed it was the common ettiquette. So correct me if I'm wrong - what would YOU do for the second time around?